PRODUCTS → Heiru coil holders
Clean and neat presentation in your company
---
Coil holders are ideal helpers in selling cables by metres. It does not matter what kind of holder you choose, you will ensure the ideal presentation, easy manipulation and perfect keeping of your goods. We offer holders in various sizes and it depends on you which cables and wires you put on it.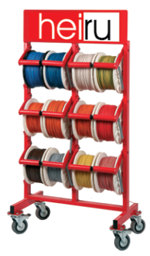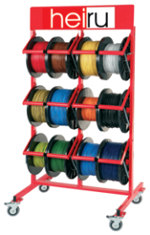 Ideal solution for electroinstalations
---
Due to the wish of our customers, we developed the new TDID8K coil holder. It is suitable mainly for creating switchboards. The holder is equipped with wheels and table for switchboard, which makes the whole activity mobile. The biggest advantage of these holders is variability. The holder can be bought with basic equipment (TDID4K) and then add additional parts.
Accessories for TDID stands
| pol. | Typ ND | Popis |
| --- | --- | --- |
| 1. | TDID-ND 1 | Wheel for travel without brake |
| 2. | TDID-ND 2 | Holder for 2 coils |
| 3. | TDID-ND 3 | Wheel for travel with brake |
| 4. | TDID-ND 4 | Holder for 4 coils |
| 5. | TDID-ND T | Square brake stick |
| 6. | TDID-ND H | Shaft for spools |
| 7. | TDID-ND R | Shaft reduction for ø 300mm spools |
| 8. | TDID-ND S | Table harness |
| 9. | TDID-ND B | Banner ad |